Surfing course with accommodation in the South West of France
Sporting holidays
Only 2 minutes from the beach, the Dune Surf Camp welcomes you in this charming villa with all comforts.Surfing, friendly and relaxed atmosphere for sporting holidays with La Dune Surf School, one of the most beautiful surf schools in the Landes.
The location of the house will make your holidays a success: the beach and shops accessible by bike or on foot, after your surf session, a well deserved rest in a zen and green atmosphere.
Surfing and Landes coast
Its location, in the middle of the Landes Coast, invites you to discover our famous beaches (Hossegor, Biarritz, St Jean de Luz …) but also and especially of the ubiquitous nature in this little corner of paradise.
Whether you are alone, as a couple, as a family or as a group, the Dune Surf Camp welcomes you and will make you happy surfers!
Enjoy a unique experience for your holidays and go green: here at the Dune Surf Camp the ocean can be reached by bike, all shops on foot! …
A surfing adventure within reach of all in a spirit of sharing.
La Dune
What better way to start your surfing course from the dune while admiring the waves ? La Dune Surf School is the only school on the dune in front of the spot !A board, a wetsuit, go down the steps and … There you are !
Surf
Learn how to play with the waves and discover this ancestral sport in a natural setting. Catch the Surf virus thanks to our team of super experienced pros. On the program: emotions, sensations, pleasure of gliding and sharing …
Camp
Here everything is simple and easy to access with the added bonus: 5 rooms for 12 guests ! The Dune Surf Camp is a simple and comfortable living space designed to seduce people, families and friends who want quality surfing. You are gathered under the same roof and share the same desire : learn to surf better in a convivial spirit.
A At La Dune Surf Camp we are in love with our surrounding nature and well aware of the numerous ecological contradictions that accompany the practice of surfing. We therefore wish to minimize our impact on Mother Nature by respecting certain fundamental principles :
Invitation to use the bike as much as possible;

The house is next to everything you need.

No pool or other drinking water pit;

The ocean is 1 km away !!!

Awareness of water savings in the camp (shower, dishwasher / washing machine, rainwater recovery),
Awareness-raising on water saving in schools: rinsing boards in the ocean,

Use of

wax without oil

,
Use of low impact skin or earth care products,

Opening the surf camp to warm seasons so

no unnecessary heating,
Improvement of insulation, use of solar energy (roller shutter),
The market of Messanges is at 300m! You can consume fresh products of proximity.
We offer tea, sugar and organic coffee,
To avoid any waste, the food of the previous tenants will always be offered to you,
Sorting and recycling of surf camp waste,
Charter of the FFS Label: awareness of the preservation of the environment: billboards on the degradation of different materials, dune formation and protection of the littoral …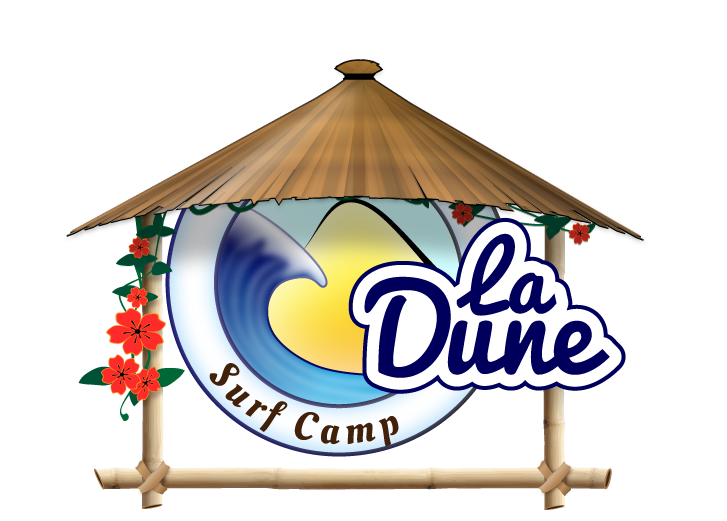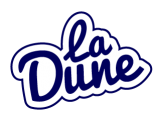 We are

A Surf Camp


And a Surf School
The team at La Dune Surf Camp enjoys the beach, surfing, nature and meeting people from all walks of life. Surfing is for us a passion, and gliding on the water is an incredible sensation that we wish to share with you in a dream setting …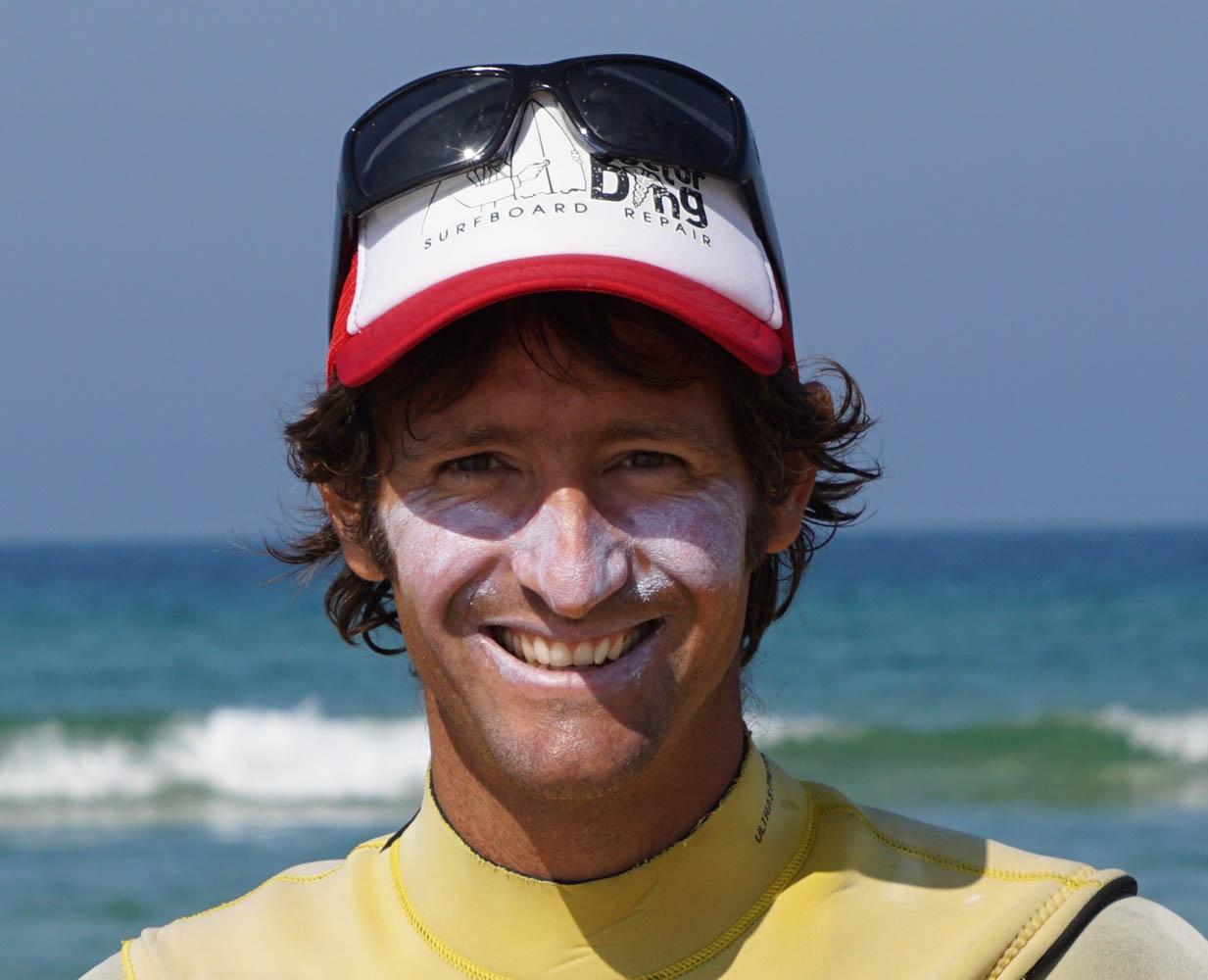 Surf, tennis and fitness instructor. Co-founder of La Dune Surf Camp. The waves took him to California, Indonesia, Ireland, Portugal, Spain, in a lot of spots in France … Fan of surfing and sports in general, he loves to cook good products that he will find for you. He glides on the wave of Messanges since 1988 and gave his first courses in the summer of 99 to Moliets and Messanges. With his experienced team of La Dune Surf School, he takes care of the surfing part.
Benoît is interested in everything and especially you: his courses are precise, adapted, methodical and in a lot of European languages. He will do everything to make you progress in good humor. In the evening at the aperitif, he will join your table to discuss your prowess in the surf : here the atmosphere is friendly and relaxed: The Dune Surf Camp is a place for exchanges and mixes …
Originally from Hossegor, Seignosse and Capbreton, I had the chance to grow up in the waves and the world of snow sports, thanks to my parents, both surf and ski instructors.
I have been teaching surfing for 8 seasons on the Landes coast, skiing and snowboarding in the Alps for 15 years. I have also been training a group of promising young snowboaders in competition for 8 years.
It is with pleasure and desire that I put my technical, educational and environmental skills at your service, in order to help you discover the joys of surfing in complete safety. It does not matter whether you are a beginner looking for new sensations or looking to improve your technical knowledge and the surrounding environment.
Hope to see many of you to meet your expectations with all of my teammates.
Co-founder of the Dune Surf Camp. She has worked 15 years in surfing and has traveled extensively (China, Japan, Canada, USA, England, Canary Islands, Tunisia, Algeria, Egypt, Dubai, Hong Kong, Europe …).
Today Soraya has chosen to settle on the Landes coast with a desire for sharing and authentic atmospheres. Present on site to answer all your questions, she is ready to spend pleasant moments with you at the Surf Camp. Do not hesitate to ask !
The Organisation of your Stay
Your arrival
Reception on Sunday from 4 pm and provision of your personal premises.
Welcome drink around 7:30 pm at the beach or at the villa :
meeting with the other guests
information about life in the Surf Camp
presentation of the team and La Dune Surf School
organisation of skill level groups
display of the course schedule.
Your surf course
The course program is scheduled from Monday to Friday. The schedules are planned according to the tides. They are posted as of Saturday afternoon at the surf school La Dune. We choose the right niche for you.
Depending on the ocean conditions, our experienced team will guide you to the suitable sandbank. Our advice will allow you to practice safely and with as much fun as possible. See Levels in Surf.
In case of cancellation, your course is postponed, replaced (stroll in SUP) or refunded.
You can continue to surf alone and keep the material after classes.
Breakfast and Meals
Choose different places of life according to your desires: kitchen, living room, terrace or garden.
The bakery is at the end of the street which is very convenient in the morning. We offer organic tea and coffee.
Close to the beach, take your breakfast in different settings.
An equipped kitchen is at your disposal as well as barbecues :
Relax and do not hesitate to implement your inspirations you will have plenty of assistants to help you !!!
Surf Camp Barbecue
Every Friday, we gather around a friendly barbecue. This is an opportunity to remember all the good times of your week in joy and good humor !
The Villa
This charming villa, located at the end of a quiet dead end and sported by Messanges, offers several possible combinations.
The idea is to allow everyone to have their own space and to be able to alternate life to several (group or family) and intimate moments.
Enjoy a unique experience for your holidays and go green:
here at the Dune Surf Camp the ocean is joined by bike, all shops on foot !
You will find :
5 rooms 2,3,4 or 5 persons depending on your preferences (12 pers max),
3 Bathrooms with beautiful Italian showers,
A spacious fully equipped kitchen open to the outside,
A lounge / dining room equipped (tv / wifi, books, sofas, table, games)
A beautiful terrace ideally exposed to the south and the east,
A panoramic garden replenishing, peaceful and natural,
Hammocks, deckchairs, tables and corners ventilated under the trees.

Un grand merci à vous 2 pour ce superbe séjour ! Et surtout pour votre dynamique empreinte de générosité et de partage§ Sans oublier le calme qui règne dans votre jardin ! A bientôt ! Caroline d'Alsace.

Super séjour au surfcamp, votre convivialité, votre passion partagée, le bien-être sur place…bref c'était top. Un petit coin de paradis à préserver…Cécile et Loic de Tahiti.

Merci pour votre accueil chaleureux, votre disponibilité, votre discrétion à la fois. La maison est très agréable, on se sent vite chez nous ! Un grand merci ! A bientôt, Valérie de Toulouse.

Excellent accueil de Soraya et Benoît. Nous nous sommes sentis comme chez nous. Cette formule surfcamp est parfaite. Fred, Romane et Ella de Nantes.

Le surf c'était trop bien j'ai vraiment trop progressé et merci pour l'accueil. Anouk Tête de chips ! d'Avignon.

Super séjour avec des vagues superbes et une ambiance géniale. On espère ne pas avoir trop usé le barbecue ! A bientôt, Augustin de Paris.

Merci pour tout ! On a vraiment passé une semaine au top. Votre accueil était super mais le mieux était de passer la semaine avec vous. YOGA + SURF + BBQ + APERO = Nous c'est ce qu'on aime ! Team Moresque de Marseille (Julia, Max, Pauline et Jérome).

Dankeschon. On espère qu'on va se revoir bientôt pour profiter de ce beau coin de France ! La Mannschaft vous souhaite une bonne chance pour l' EURO 2016. Jana et Luca de Francfort.

Merci pour tout, les rencontres, les rires, les apéros. Il ne manque que Mao !!! Des grosses bises, ne changez rien, je vous embrasse. Rizière Pourpre de Paris.

Merci pour cet accueil familial, chaleureux, ouvert et naturel. Grâce à taxi Benoît nous avons eu l'occasion de voir les alentours de Messanges. Merci de nous avoir montré how to surf. Bisous et à l'année prochaine. Luisa, Anna et Isabella, les 3 grandes blondes allemandes !

Merci pour cette semaine pleine de surf ! La prochaine sera riche en tubes j'espère…Baudoin de Caen.

Un petit mot des Vosgiens pour dire combien notre séjour fut fort agréable, avec des rencontres formidables et des souvenirs plein la tête. Un accueil au TOP, convivial et chaleureux « comme à la maison ». Un grand MERCI à vous. Et vive le SURF. Longue vie au surf camp. Picon pour tout le monde !!! Emilie, Ludo et Flash de St Dié des Vosges.

Merci pour tout. The best surfers of Messanges Mojitom Curren et Alamousse Blanchard de Marseille.

Une semaine de bonheur ! Entre sport, plage et détente. Un accueil au top. Vous êtes vraiment de supers hôtes. Les normands reviendront avec plaisir d'ici un an ou moins qui sait ! Bise, Carla de Caen.

Semaine prolongée de qualité dans ce « petit coin de paradis ». Merci à Soraya et Benoît pour ce séjour ! Glisse et fun. « A bientôt dans les vagues ». JF de Paname.

Muchas gracias po resta estancia tan acogedora, el trato tan amable que hemos recibido y por los ùtiles clases de surf. Merci beaucoup ! Esperamos volver a veros pronto, un abrazo de Alfonso y Santi de Gijon.

Que de sensations, d'énergie, de rencontres, de bons moments…et de bons souvenirs ! Merci à vous 4. A très bientôt. Laetitia de Toulouse.

Merci pour tout, le Surf, le Camp, l'Accueil. Damien de Blanquefort.

Merci beaucoup pour cette super semaine, un super accueil, convivial, chaleureux, comme à la maison mais en mieux…triste que ça se termine !!!, Tiphaine et Rémy !!! Bizz. Les surfeurs de mousse.

Excellent ambiance très locale, l'esprit du surf dans son essence et ses valeurs. Prof d'approche simple, hyper sympa et surtout très pro ; parfait et très rassurant pour débuter en famille comme c'était mon cas. Je reviendrai ! Merci pour tout. Brice de Genève
Equipment : rental included
April 23 to June 24
Sept 24 to Oct 7
June 25 to July 8
August 20 to Sept 23
July 9 to August 19
Week Formula
7 days / 6 night + 5 surf courses (1h30)
+ free organic tea & coffee
350€
410€
470€
Formula Passion
14 days / 13 nights + 10 surf courses (1h30)
+ free organic tea & coffee
640€
760€
880€
Formula Zen
7 days / 6 nights + 5 surf courses (1h30)
+ 1 yoga course on the beach + free organic tea & coffee
365€
425€
485€
Formula Relax
7 days / 6 nights + 5 surf courses (1h30)
+ 1h massage + free organic tea & coffee
400€
460€
520€
Hosting Only
(

subject to availability

)
7 days / 6 nights + free organic tea & coffee
190€
250€
310€
Groups
Family & Group discount :

please consult us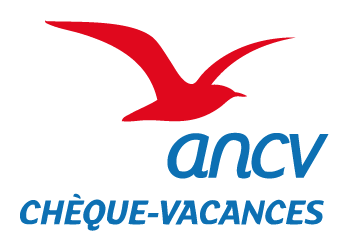 La Dune Surf Camp Traineeship Reservation
To reserve, please fill in this form on line (1 per person) and send a bank transfer of 25% of the total amount of the chosen formula to La Dune Surf Camp (contact us for bank account). A confirmation will be sent to you by text message upon receipt.
After Surfing
After Surf what else ?
For the indefatigable activity enthusiasts, here is a small list of things to do :
Yoga, our featured activity
Join a Yoga session with Laetitia to relax. On mornings and late afternoons, it takes you to an inner trip by the water.Beach Yoga courses and courses available to all.Ideal to harmonize your practice and feel the benefits in your daily life.
We offer formulas mixing Yoga and Surf.
Activities at La Dune Surf Camp :
We now have a Skate Ramp at home !
We provide several Stand Up Paddle and many Skateboards (longboard, carver…)
Practice on our "IndoBoard": to easily learn surfing while having fun for all ages and levels.The IndoBoard is designed to exercise the muscles to keep the balance!
Playing board games, outdoor games (petanque, badminton, slack line …), surfing the net, surfing books, surfing videos, preparing a barbecue, napping, stretching, Meet cool people!
In the neighborhood :
Stroll in SUP on the lakes of Azur, Vieux Boucau and Léon
The region is also discovered by bike ! Follow the bike paths in the middle of the forest. Get a 10% discount on any rental with our partner Cycl'Atlantic. Ambre welcomes you in its shop in the center of the village to make you test a wide range of bikes. Deliveries to homes on request (05 58 48 38 42).
Skate, Tennis, Golf, Horse, Tree climbing, Archery, Orienteering, Footing …
If you want to take a swim class, Laure (06 82 30 64 59) and Guillaume (06 82 25 87 15) will be happy to accompany you to the municipal swimming pool, 500 meters from the house.
Enjoy the beach, the forest, discover the pond of Moisan.
By boat or on foot, follow the Huchet Stream until its exit in the ocean
Discover the shops and restaurants of the village; Messanges is a guarantee of quality.
In the area :
An excursion on the Basque Coast, Hossegor or Capbreton
For more information, contact or meet the staff of the Tourist Office (200m from the camp!)
Visit the Landais villages and the goods things they can offer (shopping, markets, crafts, férias, concerts, shows …)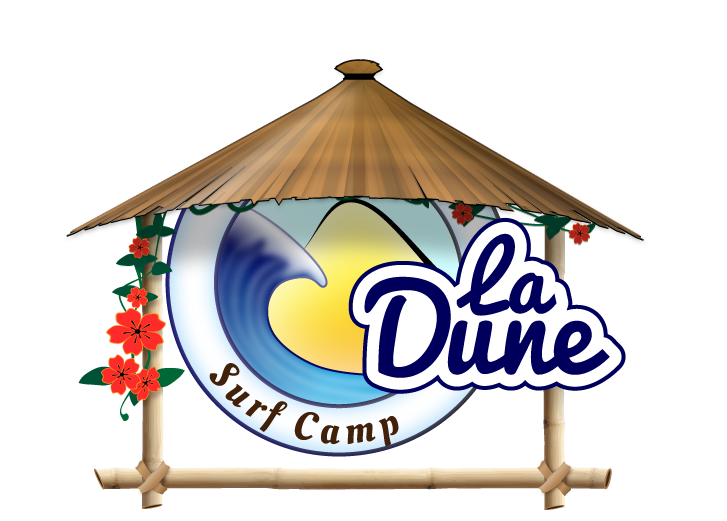 How to Come
Biarritz airport :, 50 min from surfcamp.
Find train schedules on the site of the SCNF. Nearest station : Dax.
The RDTL reaches Vieux Boucau and Messanges. Bus stop at the end of the street !
Airport/Train Station Shuttles by West Coast Transfers can take you to the Camp.
Do you come by car ? Find your way to La Dune Surf Camp in 1 click !
ALower your budget and lower your carbon footprint: carpooling !
La Dune Surf Camp
22 Avenue du Centre
40660 Messanges
GPS : 43.814996 / -1.380989
Téléphone : +33(0)6 80 00 72 98
The Dune Surf Camp transports you to Dax Station
Contact us.
To find us :
From the roundabout of Messanges to Vieux Boucau. First right We are quiet, at the end of the alley on the right.
Airport/Train Station Shuttles
The area :
The beach of Messanges stands out from all the rest of the coastline :
Our Natural environment offers you a resplendent landscape with its endless beach, pine forests and bike paths, and many neighboring lakes and streams.
The beach of Messanges is virgin of any urbanization, but Hossegor or Biarritz remain accessible for those who appreciate parties and nightlife.
Nature & Culture !